Friday, December 29, 2006
My package from Carla G!
My awesome package arrived from Carla and I couldn't comment on it right away because I left for vacation to the UK the day before the deadline (I got mine out hours before I left!) So I posted a blog letting her know I was away and not ungrateful. I got home on xmas day and picked it up as soon as possible. Read about it and see pictures
here
.
Love
Simone
XOXOXO
Thursday, December 28, 2006
Wrapping up
As of today, everyone has received their swap packages! Thanks to all of you for being such wonderful swap partners. No flakes either!!! That was a big load of my and Sarah H.'s mind; we're proud to have hosted such a successful swap. You guys all rock!!
Through the swap, I hope you've made some new friends (I know I have ) and learned a thing or two (yep, that too!). Afterall, that was the point of the whole thing.
Sarah and I are talking about hosting a vegan-magic-yarn-ball swap in the upcoming months. This is where you take a hank/skein of yarn and hand wrap it into a ball, while coiling up little treasures within. It can be done with either one type of yarn or leftovers tied together in a pleasing manner. The idea is you're supposed to knit the ball into something, revealing the surprises as you go, but most people just unwind it to get to the good stuff. =) I'll be posting on my blog when we go live with it. I'm expecting it to be March-ish.
One more thing, if you've ever wondered how Swap-bot picks swappers, I managed to get a little info by being a host. I'm sure it's random, but the list goes in one big circle. I was wondering if there was a chance that 3 or 4 or half the people completed their own circle, but it seems not. Here's our list, for the curious. Read it like this: Carla A sent to Ellie who sent to Hayley who sent to, etc, etc.
Carla A.
Ellie
Hayley
Michelle B.
Sarah L.
Cathy
Robyn
Michelle L.
Hannah
Michelle C.
Christel
Sabrina
Vania
Sarah P.
Sarah H.
Desiree
TeAntae
Susan
Jennifer
Emily
Rina
Carla G.
Simone
Carla A.
Ciao for now!
Desirée
Monday, December 18, 2006
Possible Package...
I just got a note from Canada Post that I have a package waiting for me. I think it's possibly my VeganPal package :) BUT I won't be able to get to the post office until Wednesday :(
Keep ya posted!
Update:
I was able to get to the post office today! Thanks so much, Robyn!
More info
here
.
Saturday, December 16, 2006
My box is here!!
Thursday, December 14, 2006
Thank you Rina (rbl)
Thanks Rina for a great package. I loved all the items you sent and they will be put to good use. I actually received my vegan-package a couple of weeks ago, but haven't had time to post any pics before. Click here to
view
my vegan package.
Wednesday, December 13, 2006
My package from Sarah L!
I received my package from Sarah L in Tucson a couple of days ago. Thank you SOOOO much, Sarah! I love everything you sent! I can't wait to try the larabars and the coffee. Thank you again! I really appreciate your thoughtfulness. :)
Cathy
Tuesday, December 12, 2006
Thanks Simone!!
I got my parcel! It's from
Simone
and she sent all kinds of thoughtful, generous things! See what I got
here
.
Monday, December 11, 2006
Thank you Michelle B.!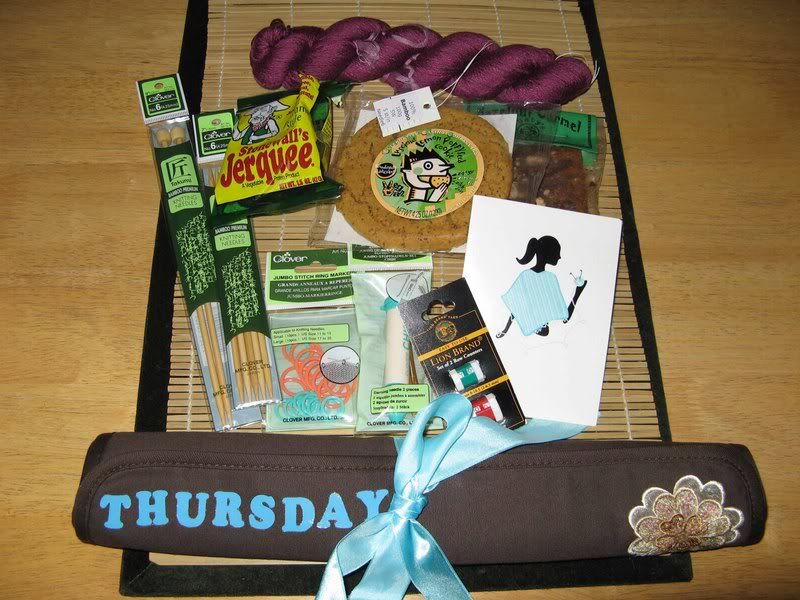 I received my Vegan Pal goodies on Friday! I love the personalized needle roll, and that big cookie in the photo is super yummy. I'm still trying to come up with a good project for my new skein of bamboo yarn...Thanks Michelle!
-
Sarah L.
Sunday, December 10, 2006
Trio!
I started getting my package the week after the swap began. First came the handmade stich markers [beautiful!] and a week later came this awesome fabric. Then a week or so later came a box of organic/ fair trade Earl Grey which I cannot wait to try. Perfect. Thanks
Ellie
!
Friday, December 08, 2006
I got my package!
Yes, it's true, and it's absolutely amazing! I'll be posting a full report with pictures within the next couple of days, so stay tuned for now! [I think we should start planning for a Vegan Pal Swap 2 - I enjoyed participating so much!]

Thursday, December 07, 2006
Time to rate your spoiler
If you'd like and if you've already rec'd your package, you can log into Swap-Bot and rate your spoiler. That's all I wanted to say. I'm going back to bed now (ill).

Thanks!

Vegan Pal
A Wonderful Vegan Surprise


i got a great present from vania today!!!!! thank you so much!!! it is amazing. i love everything and cant wait to dive in. i will post pics later, i just got back into town from a long trip and my camera is resting :P thank you again, vania!!!!

Wednesday, December 06, 2006
We Should All Get Great Mail
I got my Vegan Pal package a few days ago. But i only knew i got it yesterday, when i got home from 6 days in Boston, visiting my sister. How fantastic to come home to a great big package and FLOWERS from
Sabrina
. She was very sweet with her ideas for me - a fabulous array of zines, craft supplies, fun cards, soap, a tin she decorated, fun pins, and some lovely beads and teas. Oh, the list is endless. For someone who claims to not be crafty like me (she doesn't knit or sew like i do), she came off splendidly with a wonderfully fitting package just for me.
The flowers alone were lovely. And for me to get them just in time for
December 6
, i was so touched. They were purple too, and have some sort of daisy - both symbols of awareness for violence against women. Just what i needed!
Thanks Sabrina!
Sunday, December 03, 2006
I got my package too!
From the wonderful Sarah H. You can read about it
here
.
Also, it looks like we have 8 "not sent"s still. If you've sent your package, please make sure to login into Swap-Bot and hit "I sent my stuff". If not, could you pretty please contact your partner and let her know it's a bit late? Thanks, darlings. Also, don't forget to contact your spoiler and say thanks (if you're thankful, I don't want people to
lie
). =)
Thanks!
Des
Update: as of 12:22 pm pacific on 12/06/06, we're down to 3 not sents. Thx.
Saturday, December 02, 2006
My vegan pal was Michelle!
I got this great package from her last night. You can click on it to read the notes of what everything is. :)